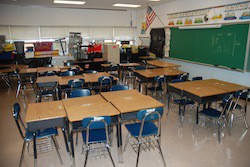 Here.
Poor parenting and too many hours in front of the TV are being blamed for a "disturbing" rise in the number of children lacking the basic skills they need when they start school.

One speech therapist had to teach a 5-year-old the word "banana", and one Wellington school is running a programme to teach new entrants basic motor skills that include how to hang up their school bags.

In Wairarapa, Masterton Primary School principal Sue Walters said: "We get a lot of kids who come to school who just can't form proper sentences.

"They have very limited vocabulary and some are operating at a 3-year-old's level. You can't teach kids to read and write if they can't speak."

The problem was not necessarily socio-economic, but one of parenting, Ms Walters said. With individual attention from an articulate adult every day, pupils quickly progressed.